Maritime Institute Staff Visit Centre for the Offshore Industry Construction Site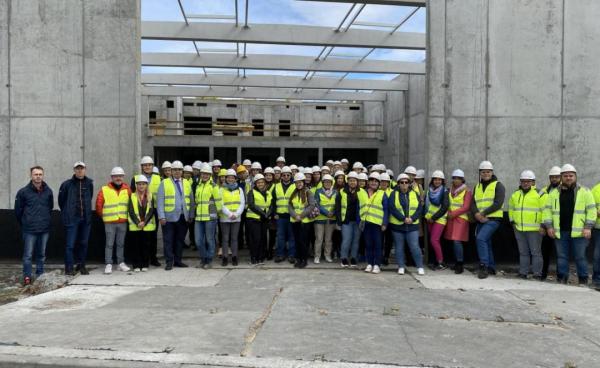 Members of staff of the GMU Maritime Institute visited the site of the Centre for the Offshore Industry, currently under construction, in Gdansk on Friday 23rd September. As of next year, the Centre will be the new home of all sections and workshops of the Institute, currently based at five different locations around the city. 
The visit provided an opportunity for staff to tour the building and take a closer look at the progress of the construction work. Also in attendance were HM Rector Professor Adam Weintrit and Chancellor Filip Malata, who discussed the conditions for the completion of the project, as well as further steps to be taken in the future.
The staff were shown around the Centre, including the locations of their new offices and laboratories by representatives of construction company Budimex.
---
Progress to date:
Stage 1:Reinforced concrete and masonry structural works and installation of the steel structure in the warehouse have been completed. Window joinery and aluminium showcases are currently being installed. The installation of the sanitary systems is in progress: heating and air conditioning, sewage pipes, hydrant installation and ventilation. The installation of flush-mounted electrical installation and electrical trays is in progress. Work on the roof is in its final stages.
Stage 2: reinforced concrete and brick construction work completed, finishing works are in progress: plastering, floor plastering and assembly of partition walls on the ground floor. The Installation of flush-mounted electrical installation and electrical trays has now been completed.
The skywalk: reinforced concrete structural work and laying of prefabricated elements are complete.
Outside area: rainwater and sewage pipes are being installed. Work on the building's elevation has now begun as part of stage 2.
Providing entity:
GMU/Gdynia Maritime University