Thousands Turn Out to See the "Dar Młodzieży"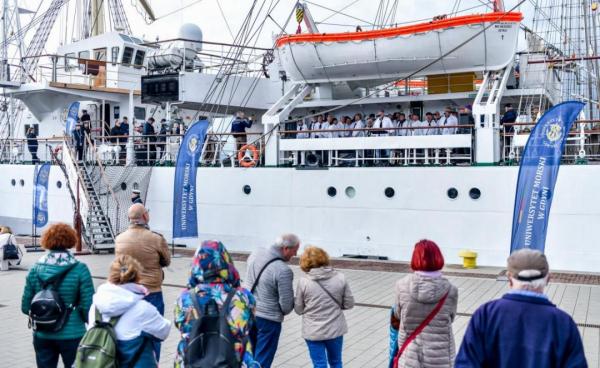 More than 5,700 people turned out to visit the "Dar Młodzieży" over the weekend. In celebration of its 40th anniversary, Gdynia Maritime University's training sail ship opened its deck to the public,
With 5,716 people taking the opportunity to come aboard the "White Frigate". As a training ship, the "Dar Młodzieży" is often at sea with students and middle school pupils, and even when it does return to its homeport in Gdynia, there is usually too little time available for visits. This was, however, a special occasion, with the world-famous sailing ship beginning celebrations of the 40th anniversary of the raising of the Polish flag on its masts a month early due to its sailing commitments.   
Despite the less than ideal weather, a large queue of visitors had already formed before the ship was opened on Saturday morning. Local residents, GMU staff, tourists, and often whole families made use of the occasion to get onboard and get a closer look at the ship and have their questions answered by students and the ship's crew. Visitors also wrote on more than a thousand specially prepared postcards commemorating the ship's anniversary, which were then mailed to addressees in Poland and around the world free of charge.
Saturday's event finished up with a special maritime concert. The public gathered in the area of the Pomeranian Quay to listen to sea-shanty songs performed by the "Zawisza Czarny" [Black Knight] Male Shanty Choir. The performance was the choir's first onboard the "Dar Młodzieży" and drew shouts of encore as a set of more than an hour came to an end. 
There was also the opportunity for those looking to study in the future to get information on what the University has to offer, and many young people and their parents approached the GMU promotions tent to ask questions to University staff and current students. People of all ages also took part in first-aid demonstrations given by students from the Faculty of Navigation.
Celebrations of the 40th anniversary of the "Dar Młodzieży" will not be limited to the weekend's events. In June there will be dedicated academic celebrations for the ship's anniversary during the Gdynia Maritime University Celebration Day.
On Monday evening, the ship will again leave port. This time setting sail for the ports of Rouen and Kiel, before returning to Gdynia in a month's time.
The Open Days in numbers:
5716 visitors,
12 visiting hours,
476 visitors per hour,
1026 postcards,
628 GMU logo balloons,
226 GMU logo flags.
Providing entity:
GMU/Gdynia Maritime University