"Dar Młodzieży" in 2nd Place After First Stage of Tall Ships Races Magellan - Elcano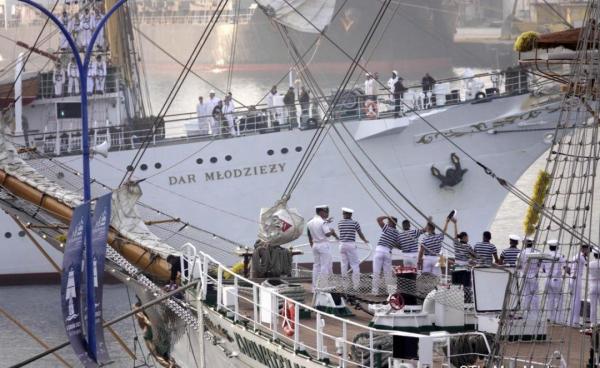 The Magellan-Elcano regatta is a special edition of The Tall Ships Races in celebration of the 500th anniversary of the first voyage around the world - the expedition of Ferdinand Magellan and Juan Sebastian de Elcano. Originally scheduled for 2021, the event was cancelled due to the Covid-19 pandemic. The route is divided into two stages: Falmouth - A Coruna and Lisbon - Cadiz. After completing the first stage of the race, around 400 nautical miles over 3 days, the "Dar Młodzieży" is currently holding 2nd place.
After almost 3 days at sea, we came in second, just behind the "Frederyk Chopin". Winds were weak, 3-4 knots, and only occasional stronger gusts. As for the crew, they're doing very well. What's most important is that they're prepared to learn and put the work in, commented Captain Rafał Szymański.
From A Coruna, the competitors will head to Lisbon, where on 3rd September they will start the second stage of the regatta. The tall ships will have 200 miles to cover en route to Cadiz, where they are due to dock on 7th September. Following a change of trainees, the "Dar Młodzieży" will set a course for Cape Verde and continue towards zero degrees latitude, where the "White Frigate" will commemorate the 100th anniversary of the crossing of the equator by the first ship under the Polish flag - the sailing ship "Lwów", the Maritime School's training ship during the years 1921-1930. 
Providing entity:
GMU/Gdynia Maritime University