Dar Młodzieży Docks in Home Port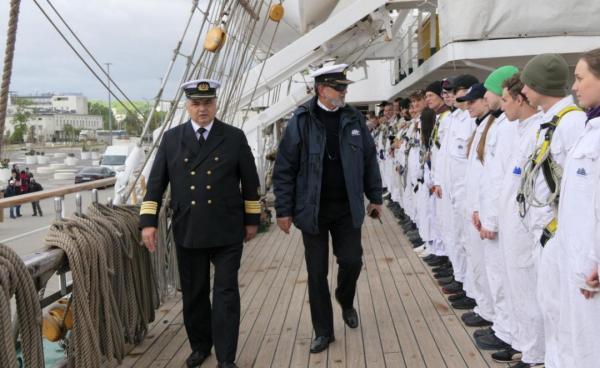 On Wednesday morning, 17th May 2023, after a two-month voyage, the Dar Młodzieży returned to its home port. Gdynia Maritime University's sail training ship docked at 10:00am at the Pomeranian quay in Gdynia with 118 apprentices from the Gdansk and Świnoujście Maritime Schools, the Szczecin Technological and Maritime Schools, and the Śądzierzyn Koźl School of Inland Navigation on board.
There to welcome the ship were HM Rector Professor Adam Weintrit, employees of the Ship Management Office, family members of the crew, and many local residents and tourists.
First to board the frigate was the Rector, who, after greeting the ship's Captain Rafał Szymanski, inspected the crew and welcomed the young trainees.
The white frigate will remain in Gdynia for a week, after which it will set off on a six-month voyage with Gdynia Maritime University students, during which it will commemorate the 100th anniversary of the crossing of the equator by the first ship flying the Polish flag, the tall ship "Lwów" - the Maritime School's training ship during the years 1921-1930. 
Providing entity:
GMU/Gdynia Maritime University