"Dar Młodzieży" Wins Tall Ships Races 2023 Class A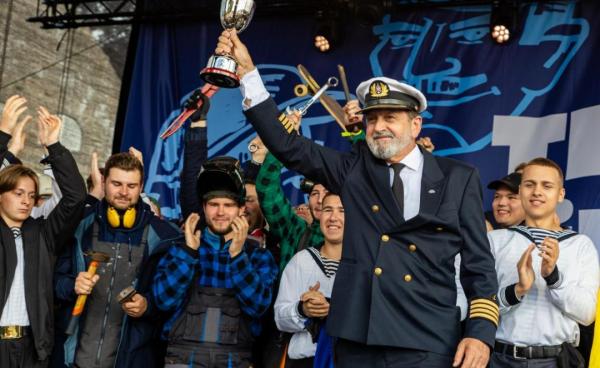 Following the traditional street parade of crews in the Norwegian city of Fredrikstad, an award ceremony took place for the second stage of the Tall Ships Races 2023. The decisive victory of the Dar Młodzieży on the Hartlepool - Fredrikstad leg of the race resulted in Captain Rafał Szymański and his crew raising not one, but two cups after the ship's previous success in winning "Line Honours". 
Many people congratulated us before the official announcement of the results, and the members of the other teams expressed their admiration for our crew who gave their all at this stage of the race - said Captain Rafał Szymański, Captain of the "Dar Młodzieży". The average speed over the 12 hours was above 14 knots, and I think this is one of the ship's better results in recent years. We made use of the optimal conditions and the entire crew contributed to the success, although I must admit that after the first phase, I was thinking of dropping out. The 56 trainees on board had it really tough. My utmost respect for the 2nd-year students from the University's Faculty of Marine Engineering and 23 students from the Faculty of Navigation at Odessa Maritime Academy. They performed as one winning team. 
As Captain Szymański pointed out, it's nice to win, but training takes priority.  
From Fredrikstad, the "Dar Młodzieży" heads to Shetland with a two-day stop scheduled on the west coast of Norway. In Lerwick, the fleet of ships will be welcomed by Princess Anne, where a maritime festival will be held between 26th and 29th July. Following the event, the ships taking part in the Tall Ships Races 2023 will set off on the third and final stage of this year's regatta, with the finish line in Arendal.
Providing entity:
GMU/Gdynia Maritime University