Invaluable Exhibits Return to Hall of Tradition Following Conservation Work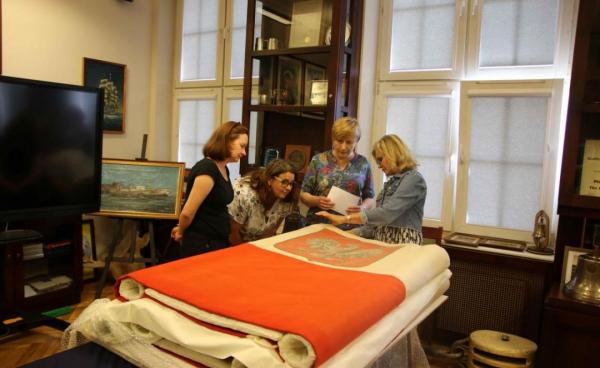 Items of historical importance have been returned to the University's Hall of Tradition after undergoing professional conservation in Warsaw. The exhibits include the pre-war banner of the State Maritime School in Gdynia and the gala flag used on the Dar Pomorze and three merchant navy ships that sailed in convoys during the Second World War.
The conservation work was carried out as part of the "Sharing the scientific and historical heritage of Polish maritime education" co-financed by the Ministry of Education and Science as part of the Social Responsibility of Science Programme - Support for Research Libraries.
The creation of the State Maritime School in Gdynia banner was funded by the people of Tczew at the time of the School's transfer to Gdynia and officially presented to the  School's director, Adam Mohuczy, by the Deputy Mayor of Tczew, Karol Hempel, on 8th December 1930.
The banner survived thanks to its removal from the School before the outbreak of the Second World War. It was taken to England, where it was used by cadets at the Polish Maritime School in Southampton.
In June 1959, during the stay of the Dar Pomorza in Dover, Polish captains and alumni of the State Maritime School in Gdynia, Witold Sawicz-Korsak and Stefan Mermon, passed the banner to Captain of the "Dar Pomorza" Kazimierz Jurkiewicz, as instructed by the Polish Navy Association in London.
The gala flag, which was first raised on the "Dar Pomorza" on 13th July 1930, was a gift from the people of Pomerania. In November 1981, it was added to the collections of the Hall of Tradition. A replica of the flag is on the Dar Pomorza, which now functions as a museum.
Other restored flags come from the m/s "Sobieski," the s/s "Kościuszko" and the s/s "Chorzów."
The flag from the s/s Kościuszko was given to Captain Wiesław Hrabar, who graduated from the Faculty of Navigation in 1935 and participated in war convoys, including to Murmansk. In 1943, the Captain became the second officer on the "Kościuszka" and settled in South Africa after the war.  
The flag of the s/s "Chorzów" was donated to the Hall of Tradition in 1993 by Captain Janusz Grodzicki, a graduate of the State Maritime School (1939) and a deck officer on the "Chorzów" who removed the flag during the night of the 16th to 1944, when the crew were forced to leave the grounded steamer near Shoreham-by-Sea.
Providing entity:
GMU/Gdynia Maritime University