GMU Receives the Polish Smart Growth Award 2021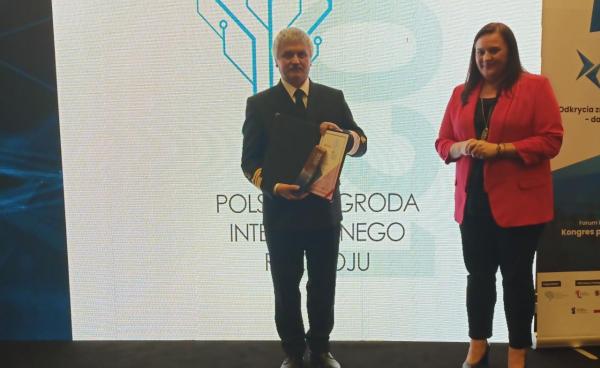 The Deputy Rector for Cooperation and Development, Professor Tomasz Tarasiuk, accepted the Polish Smart Growth Award on behalf of Gdynia Maritime University from the Deputy Minister for Regional Funding and Policy, Małgorzata Jarosińska-Jedynak.
The University was awarded the accolade in the category of Technological Innovation and Research of the Future for its INCONE60 - Inland Blue Transport Connector E60 project as well as its positive approach to the dissemination of the results of University research throughout society. The INCONE60 project is conducted by a team in the Economics and Law Section of the GMU Maritime Institute headed by Marcin Kalinowski, MSc(Eng).
The award was presented during the closing gala of the sixth Smart Growth Forum. In addition to the University's project and research work, the Forum also recognised individual researchers, who were presented with "Scientist of the Future" statuettes.
The Intelligent Development Forum provides an opportunity for active discussion and the networking of several hundred peer-reviewed leaders and individuals who, with experts and practitioners, set trends in the development, commercialisation and implementation of outcomes of exciting new ideas. The gala and the presentation of the awards provided an opportunity to meet inspirational individuals capable of charting the most effective way of turning an idea into a commercial success.
Please visit the Smart Growth Forum website for more information: https://irforum.pl/(in Polish)
Providing entity:
GMU/Gdynia Maritime University