GMU Agrees Cooperation with Gdansk Forestry Agency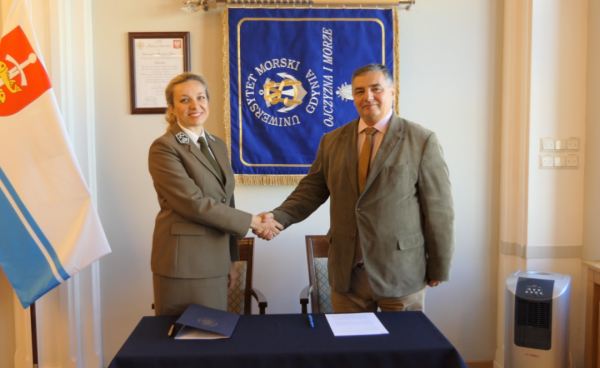 On 6th September 2022, Gdynia Maritime University signed an agreement with the National Forests Management Agency in Gdansk.
The agreement concerns cooperation between the two institutions, including making available forest areas to the University for the creation of infrastructures that can be used by GMU students and the local community. The project includes the creation of permanent orienteering courses, and the development of areas allowing for running, walking, and competitive sports, as well as training in orienteering, map reading, and encouraging people to spend time actively in nature (with 24/7 access for everyone).
On behalf of Gdynia Maritime University, the agreement was signed by HM Rector Professor Adam Weintrit, and from the Gdansk Forestry Agency  Paulina Partyka-Drzazga. The meeting was attended by the Specialist for Forest Education and Tourism and Recreational Access, Witold Ciechanowicz from the Gdansk Forestry Agency, GMU Chancellor Filip Malata, GMU Bursar Paweł Orzeszek and the coordinator of the project, Dr Piotr Kopacz of the GMU Department of Navigation.
The project is due to be completed by the end of 2023.
Providing entity:
GMU/Gdynia Maritime University