GMU Choir Performs with Andrea Bocelli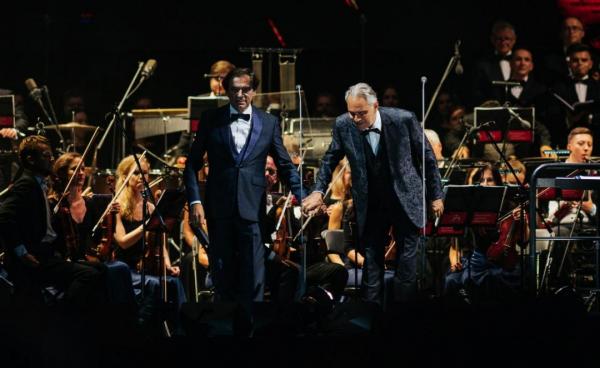 Friday night's performance at the Tauron Arena in Krakow was the second time already this year that the Gdynia Maritime University Academic choir has supported Italian tenor Andrea Bocelli, following a concert on 19th August at the PGE National Stadium in Warsaw. And it's by no means the last time this year that the choir will support the famous tenor, with whom they are set to make an appearance at the Ergo Arena in Gdansk on 26th November.
An audience of more than 30,000 attended the Warsaw event for a unique evening with Andrea Bocelli. The artist was accompanied by the 60-member Gdynia Maritime University Academic Choir and 70 musicians from the Beethoven Academic Orchestra. The conductor was Marcello Rota.  A rehearsal took place the day before the concert. 
Both events were unique, once-in-a-lifetime experiences. Both in terms of the atmosphere at the concerts and the associated emotions, but also the work and tireless effort of the group, and the enormous joy and satisfaction that comes with it. The concerts provide a different experience for the audience and us on the stage, who can hear each other's and Andrea Bocelli's voice - commented Dr Karol Hilla, conductor of the Gdynia Maritime University Academic Choir. – I'm very proud of them all. Both performances were a demonstration of the choir's capabilities and demonstrated the professional approach of its members. We also managed to set a record as the first academic choir in Poland to perform in front of an audience of more than 30,000 at a ticketed concert.
The Italian artist was accompanied on stage by special guests - his son Mateo, who together with his famous father performed such hits as "Fall On Me" and "Perfect Symphony," soprano Francesca Maionchi, baritone Gianfranco Montresor, the singer Red as well as dancers.
The audience was treated to arias and choral parts from "Trubadura", "Tosci", "Andrei Cheniera" and "Traviaty". The audience was delighted by Neapolitan songs and the greatest classics from the tenor's repertoire, including "Nessun Dorma" from G. Puccini's opera "Turandot" and "Con te partiro", sung together with Francesca Maionchi. For selected pieces, Bocelli's voice was accompanied by the playing of talented Ukrainian violinist Anastasija Petryshak.
Choir conductor Dr Hilla encourages trying out for the choir: – Members of the choir often tell me that the choir has changed their life and opened up new horizons. Have a look at the choir's calendar on the university website, write to us on Facebook, and by all means come and see us at one of our rehearsals. Still, to come this year are preparations for the Sambor Festival, concerts with orchestras in Gdańsk and Poznan and another concert with Andrea Bocelli in November. And in the not-too-distant future, recording sessions for an album and a rescheduled trip to New York. With the GMU choir, no two days are the same!
Providing entity:
GMU/Gdynia Maritime University