National Taiwan Ocean University Visits GMU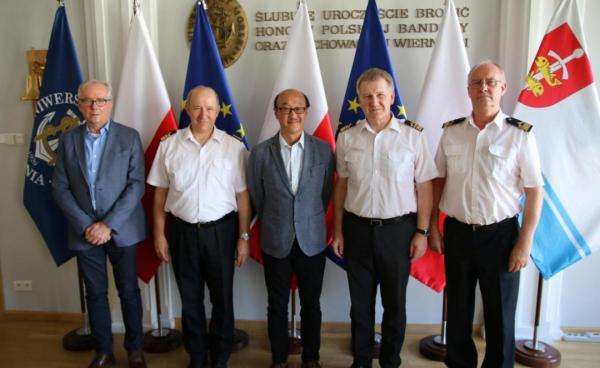 September 2nd 2022 saw Gdynia Maritime University welcome representatives from National Taiwan Ocean University (NTOU) following the conclusion of a cooperation agreement between the two universities in November 2021. NTOU was represented by Xaviera L. W. Liao and Jan-Willem Liao. Accompanying them were Dr  Marek Moszyński from Gdansk University of Technology and the Polish Space Agency POLSA, as well as  Jarosław Maj from Evergreen Line Europe. GMU was represented by: The Deputy Rector For Scientific Research Dr Dariusz Barbucha,  and representatives of the Faculty of Electrical Engineering: Faculty Dean, Professor Krzysztof Górecki, Associate Dean for Maritime Affairs and Promotion, Dr Karol Korcz, and Dr Agnieszka Lazarowska,  Marcin Waraksa and from the Faculty of Navigation: Faculty Dean, Dr  Tomasz Neumann,  Dr and Captain Ryszard Wawruch,  Dr Krzysztof Czaplewski,  Dr Joanna Szłapczyńska,  Dr Krzysztof Wróbel.
The agreement between the two universities foresees the following areas of cooperation:
exchange of academic teachers
exchange of undergraduate and postgraduate students
implementation of joint scientific projects
participation in scientific seminars
publication of scientific papers in the universities' journals
exchange of academic information and materials
launch and implementation of so-called short academic programs
joint implementation of projects supporting the development of research and teaching staff
The purpose of the visit was to present the scope of research conducted at GMU, particularly within the Faculty of Electrical Engineering and the Faculty of Navigation, as well as to showcase the laboratory facilities of both departments. During the visit, areas of cooperation were discussed in detail, as well as plans to implement joint projects and other scientific and research ventures in the coming months.
As explained by Dr Dariusz Barbucha, "This is the second visit from our colleagues in Taiwan to GMU and the next stage of our cooperation. During our meetings, we discussed potential areas for joint research in e-Navigation and satellite technology. In the near future, most probably towards the end of November, we are planning to hold a webinar, during which scientists from GMU and NTOU will present in more detail the results of their most recent research and we will discuss steps aimed at obtaining funding from the Polish National Research and Development Centre and the Taiwan Ministry of Science and Technology (MOST) to conduct research together."
Providing entity:
GMU/Gdynia Maritime University