Pomeranian Rectors Sign Erasmus+ Cooperation Agreement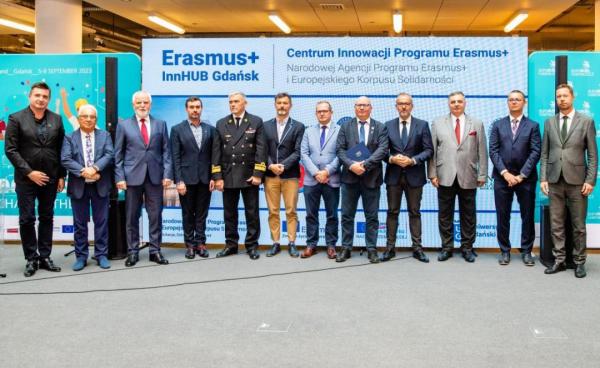 The rectors of Pomerania's higher education institutions have signed a cooperation agreement in support of innovation in Pomerania through the Erasmus+ programme.
On Monday 5th September 2022, an Erasmus+ Innhub centre was inaugurated at the University of Gdansk. During the event, a cooperation agreement was signed by the representatives of 12 pomeranian centres of higher education. On behalf of Gdynia Maritime University, the document was signed by HM Rector Professor  Adam Weintrit.
The Erasmus+ InnHUB innovation centre will be active from 8th September 2022 in the main library at Gdansk University. Its main task is to promote international innovative education projects throughout Pomerania using funding supplied by the Erasmus+ programme.
In addition to European education programmes, Erasmus+ InnHUB also promotes its own programme. The centre will provide support for organisations, companies and education centres applying for funding from the Erasmus+ programme. It also provides further training courses, as well as organising workshops and training for professional competencies. 
The Erasmus+ InnHUB project is overseen by the Foundation for the Development of the Education System, founded in 1993, which has managed European programmes, projects and initiatives for the past 29 years. Since 2014, FRSE has served as the National Agency for the Erasmus+ Programme and, since 2018, for the European Solidarity Corps.
The agreement on cooperation with FRSE was signed by representatives of 12 Pomeranian universities. Gdynia Maritime University, Gdansk University of Technology, Gdansk Medical University, Gdansk Fine Arts Academy, Gdansk Music Academy, Polish Naval Academy, Academy of Sport and Physical Education, Pomeranian Academy, Elbląg Academy of Applied Sciences (State Professional Higher School), Gdansk Higher School of Banking, Ateneum - Gdansk Academy of Applied Sciences. 
During the inauguration of Erasmus+ InnHUB, Gdynia Maritime University was represented by HM Rector Professor  Adam Weintrit and Deputy Rector for education Dr Sambor Guze.
The purpose of the signed agreement, in addition to promoting the Erasmus+ programme in northern Poland, is to build and expand the network of international cooperation and the synergy of business and science. The cooperation with twelve Pomeranian universities is to provide a suitable basis for these activities.
- The establishment of the centre is in response to the needs of Tri-City universities, which are looking to use Erasmus+ funding more effectively, not only for student and staff mobility, but also to finance their cooperation with businesses and organisations. The centre will essentially work as a contact point for the Erasmus+ programme and a place of training and workshops for the academic community of the Tri-City area – commented HM Rector Professor Adam Weintrit.
Similar agreements have also been signed in the krakow and Katowice voivodeships, and will also be signed in Lodz and Poznan.
Providing entity:
GMU/Gdynia Maritime University