GMU's Young Scientists - Agnieszka Lazarowska, PhD(Eng)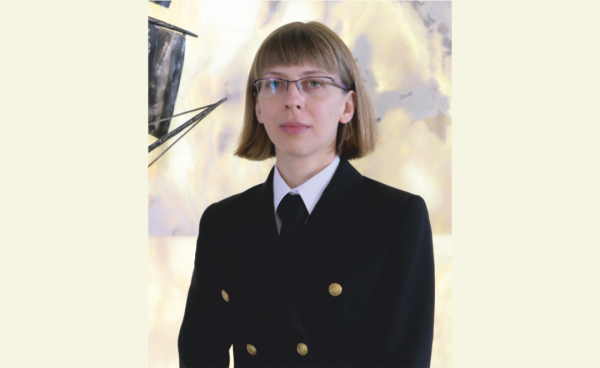 In 2022, three members of staff at Gdynia Maritime University received prestigious scholarships from the Minister of Education and Science for outstanding young scientists with significant scientific achievements. Dr Agnieszka Lazarowska, Dr Paweł Dąbrowski, and Dr Mariusz Specht were included in a group of 215 young scientists from throughout Poland who were awarded a scholarship. They are the first in the university's history to be awarded such scholarships.
In three separate editions, we will bring you brief interviews with the award-winning members of GMU staff, conducted by Anna Błażejewska (A.B.) from the Faculty of Science, revealing their scientific interests, road to success, as well as their interests outside of science.
The first interview we are publishing is with Dr Agnieszka Lazarowska – Assistant Professor in the Department of Ship Automation at the Faculty of Electrical Engineering.
A.B: Please accept my sincerest congratulations on your scholarship. This is an important achievement for you, but also for Gdynia Maritime University. Tell me, what made you decide to study and then join the teaching staff at our University.
At school, I was very fond of sports such as basketball, athletics, and handball, and when I took part in a sailing trip to Sweden in the third grade of secondary school, I developed an interest in subjects that would allow me to work at sea. And when the time came to enter higher education, I chose to study ship electro-automation in the Faculty of Electrical Engineering at Gdynia Maritime Academy. The supervisor of my work for my bachelor of engineering, master's and doctoral degrees - was Professor Józef Lisowski, who I respect most highly as a scientist. The opportunity to work with Professor Lisowski (at the time the Rector ) came about when choosing the topics of my dissertation for my bachelor of engineering. I was curious about the "comparative analysis of the algorithms used to determine the safe trajectory of a ship through simulation tests," although I didn't know anything about it at the time.
A.B: When did you decide to become an academic teacher and a scientist? Describe those first moments of difficulty, indecision, or maybe impatience or discouragement.
Towards the end of my studies, I knew that I wanted to become an academic teacher and a scientist. But there were a few difficult moments. It took me the first few years to develop a way of working and deciding on a topic of research. Developing my first own algorithm was an enormous challenge and cost me a great deal of effort. But at the most difficult moments, I have always had the support of Professor Lisowski, who, at the same time, required me to be very independent, for which I am now very grateful to him.
A.B: What topics do you deal with in your scientific work?
My research is on the development of algorithms used by ships to avoid collisions. Similar methods are used for mobile robots or other autonomous vehicles, the so-called mobile objects moving in a dynamic environment, in which obstacles change their position over time.
A.B: When did you decide to focus on the topic of determining the safe optimal trajectory of a mobile object in a dynamic environment, and what impact did your employment at Gdynia maritime university have on the extent of your research?
What I wanted to do became clear to me when writing my bachelor of engineering and master's dissertations, as the topic I choose turned out to be fascinating and I really wanted to develop it. Working at Gdynia Maritime University, and participating in training on the Horyzont II research ship and a merchant ship during my studies, made me better aware of the importance of research for both industry and the marine environment.
A.B.: You have developed algorithms using different optimisation methods. What is the process for the development of such methods and what equipment is required - a high-performance computer, complex devices?
Firstly, the assumptions used to solve the problem should be defined. In my case, this is an indication of what kind of limitations I will consider and how. In regards to the problem that is the focus of my research, these limitations are the ships, but also static obstacles such as areas of land or shallows. The Algorithm should also factor in the "International Regulations for the Prevention of Collisions at Sea," which are the rules of the road for ships. An algorithm is then developed. Initially theoretically, and then in the form of a program code, at the end of which remains the testing phase of the solution, aimed at verifying the safety and reliability of the solution we have invented.
A.B.: How does your research contribute to improving shipping safety and the protection of the environment?
The implementation of a system to assist the navigator's decision in a conflict-of-law situation at sea, suggesting what safe manoeuvre should be carried out to avoid collisions with other ships, would contribute to the reduction of the risk of collision and thus increase the safety of shipping and the protection of the environment.
A.B.: Has your training on the University's ships, the "Dar Młodzieży" and "Horyzont II", proven to be essential to your research work?
I believe that Seamanship training is an extremely valuable experience. Experiencing work at sea has been of great value to me both in terms of my research and teaching work. Thanks to this experience at sea, I have a better idea of the work of navigational officers in steering the ship, and the information they use in making decisions. The same information that navigators use is needed as input data in the algorithms I develop. The ability to obtain such real navigational data is very valuable in my research, which is why I am extremely grateful to all those who have helped me record it on the Horyzont II.
A.B.: During the years 2018-2019, you carried out a project entitled "Research on New Obstacles Avoidance Algorithms for Ships" (NOAA), funded by the International Association of Maritime Universities (IAMU) and the Nippon Foundation of Japan, and directed at young scientists. Was this a natural step in your scientific career?
One of the research areas within which project proposals could be submitted was the topic "Technology for safer and greener shipping," which perfectly fits my research work. My idea was to verify the methods developed for determining a safe trajectory in real conditions, using real-life navigation scenarios recorded onboard the ship. The project was made possible by the opportunity to apply for a grant financed by the IAMU and the Nippon Foundation. As it turned out, the idea was welcomed by the evaluation committee and was awarded funding.
A.B.: What type of research was carried out under the NOAA project and how can it be used in practice?
The main focus of the research was the acquisition of real navigational data during the voyages of the "Horyzont II" on Spitsbergen, the analysis of the information obtained and the testing of the algorithms used to determine the safe trajectory of the ship. The implementation of the ship's safe trajectory as a system supporting the work of the navigator onboard the ship would contribute to the safety of shipping and the protection of the environment. Collision avoidance algorithms are also one of the key elements of the control system for unmanned and fully autonomous ships. In recent years, we have seen a dynamic growth of interest in the area both in the scientific community and industry.
A.B.: Do you have any advice for young scientists based on your experience in applying for this grant?
I do not feel like I am an expert in applying for grants, and the best advice that comes to my mind right now is to try, try, and try again, and not be discouraged. Sooner or later continual efforts will no doubt pay off. 
A.B.: In 2015, you took part in the TransFormation programme, which was part of a Ministry of Education and Science project, entitled  "Support for the management of scientific research and its results" at Lund University in Sweden.  Did this time spent at a foreign university impact your research later?
During this trip, together with other young scientists from Polish universities, I took a course aimed at developing entrepreneurship and soft skills. We held several meetings, workshops, and study visits with experts from the University of Lund, as well as developing innovative companies connected with the University. I enjoyed the openness of people working there for new, innovative ideas and solutions, and the great desire to discover them. This is something which is developed, promoted and supported early on among students. In my opinion, we can learn from such an unconventional, supportive approach that provides development opportunities, through, for example, student projects or academic circles.
A.B.: What do you consider your greatest achievement or achievements?
It's difficult to single out specific individual successes. There have been a lot of breakthroughs in my work. My most recent achievement is the publication of the monograph "Safe Trajectory Planning for Maritime Surface Ships," published by Springer, which contains a summary of my research work to date. 
A.B.: What are your scientific plans for the future?
I would like to carry out a project for the implementation of the solutions I have developed in the industry.
A.B.: You talk about your work with great passion. What message would you like to give to current and future GMU students?
That they shouldn't be afraid to dream and strive to make their dreams come true, not to let anyone cut their wings, work hard, learn a lot, and that will bring results. And of course, I invite the most ambitious to work with me.
A.B: What are your hobbies and interests outside of science?
My hobbies are activities I have time for mainly during my holidays. In the summer, I like to go hiking and bike riding, and in the winter skiing. I also recently returned to reading medical thrillers, which was my favourite pastime during high school.
A.B: Thank you.
Interview by Anna Błażejewska
---
Dr Agnieszka Lazarowska
Assistant Professor in the Department of Ship Automation at the Faculty of Electrical Engineering of Gdynia Maritime University
Research interests: Deterministic and non-deterministic algorithms for the determination of safe trajectories for manned and autonomous vessels
ORCID: 0000-0002-6869-5553(link is external)

e-mail: a.lazarowska [at] we.umg.edu.pl 
Providing entity:
GMU/Gdynia Maritime University