Guard of Honour of Train in Bieszczady Mountains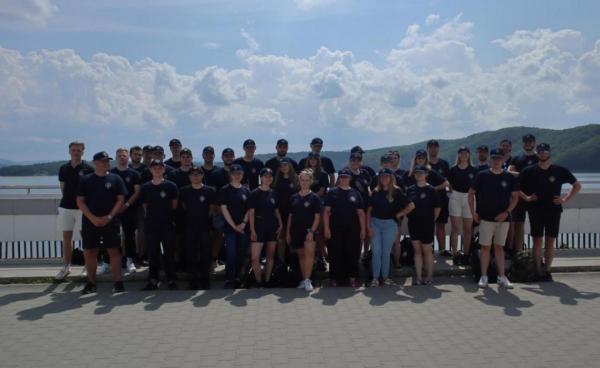 From 20th to 25th June 2023, students from GMU's Guard of Honour took part in a training trip organised by the University's authorities. The group stayed in the Polish Tourist Association (PTTK) hostel in Bieszczadzka Wetlin.
Each day of the trip was planned in detail and began with morning exercise in a clearing by a stream passing through the hostel grounds, and often ended singing shanty songs together around a campfire in the evening.
As befits the University's Guard of Honour, the trip also saw the group carry out drill training in the square in front of the local fire station, which proved to be an attraction for local residents and tourists.
The group also went on two hikes in the Bieszcady Mountains. The first of them was the climb to Smerek from Wetlin via the Orłowicz mountain pass and the Polonina Wetlińska passage to the "Chatka Puchatka" hostel, the highest in the Bieszczady Mountains, named after the Polish sailor Leonid Teliga. During the second trip into the mountains, the group reached the highest peak (Tarnica) starting with Wołosaty, the most remote village to the south, and ending in Ustrzyki Górne.
One of the highlights was a trip to Solina, combined with a visit to the largest and highest dam in Poland at the Solina-Myczkowkowce Water Power Plant. In addition to walking on the dam, the students visited the inside of the structure, where the temperature is around 8 degrees Celsius all year round.
A daily ritual during their stay was a dip in the Wetlinka stream passing through the hostel grounds. Some also braved a mountain where the temperature doesn't exceed 12 degrees.
During the trip, the students represented our University with dignity and pride, positively promoting Gdynia Maritime University in the region.
Providing entity:
GMU/Gdynia Maritime University