"Horyzont II" Heads for Spitsbergen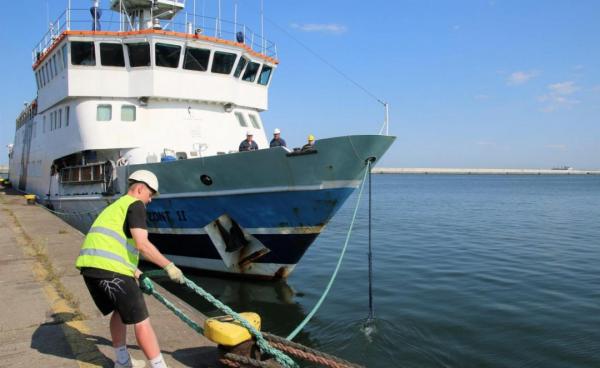 On Tuesday afternoon, 6th June 2023, the University's training and research vessel,  "Horyzont II" left port in Gdynia for Spitsbergen.   
The permanent crew, 2nd-year students from the Faculty of Electrical Engineering, and a group of polar explorers from the Institute of Geophysics at the Polish Academy of Sciences were seen off by HM The Rector of Gdynia Maritime University on what is another joint expedition combining education, seamanship training and cooperation with the Polish Academy of Sciences. 
"For the Faculty of Engineering students, the voyage will be one of their first times at sea. The expedition will no doubt give them a deeper sense of respect for the sea and a chance to experience for themselves the practical side of life at sea" - commented Professor Adam Weintrit, Rector of Gdynia Maritime University.
The "Horyzont II," commanded by Captain Ryszard Durlik, will reach the Svalbard archipelago within a week. The ship will then make stops at Hornsund, Longyearbyen, Kaffioyra, and Bellsund, the locations of Polish research stations.
"We are sailing on an excellent ship with a great captain and crew," emphasises Krzysztof Otto, Director for Polar and Technical Affairs at the Geophysical Institute of the Polish Academy of Sciences in Warsaw.  - "For us, every expedition, and this will be the 23rd season sailing on the Horyzont II, has the task of delivering around 100 tonnes of cargo to Spitsbergen: supplies, research equipment, and above all people, as its time for the rotation of researchers as the current team has been there for more than a year."
The students have been on board for a week and have been divided into watches. Each watch lasts a week and is dedicated to a different task, whether it be on the bridge, in the engine room, or in the kitchen. This type of expedition is a real test for them - commented Captain Ryszard Durlik.
We're curious about the world and eager for new challenges – say the students.
The expedition is an unmissable opportunity to experience our chosen profession in practice. It's a chance to get to know each other better, but also a great adventure, as not everyone gets to go to Spitsbergen. I hope we will learn a lot – says Oskar Mauda, a 2nd-year student at the Faculty of Electrical Engineering.
The "Horyzont II" will return to Gdynia on Monday, 26th June 2023.
Providing entity:
GMU/Gdynia Maritime University