Little Students' Day 2023 at GMU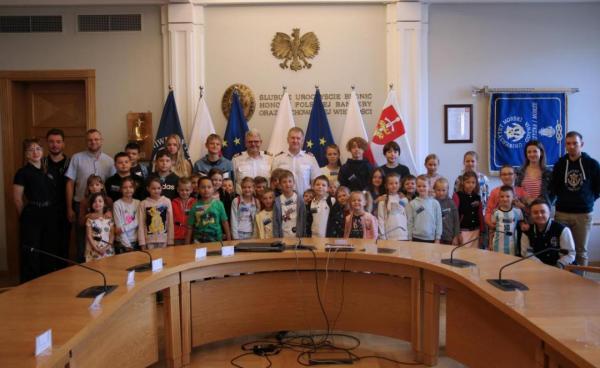 Meeting with the University's authorities, laboratory visits, physics classes baking buns, and following the paw prints of the University's mascot were just some of the attractions at this year's "Little Students' Day".
Once a year, towards the end of the summer holidays, Gdynia Maritime University welcomes the children of its staff inside the walls of the University to take part in a programme of activities known as "Little Students' Day".   This year's event took place on the last day of the summer holidays and gathered together 40 children between the ages of 5 and 15.
At 8:00am on Friday 1 September, the halls of the University were filled with the happy chitter chatter of "little students" arriving with their parents for the start of Little Students' Day. After hearing details about the day ahead, the children were read a letter left for them by the University mascot, Maciek, the sea wolf.
Welcome to Gdynia Maritime University for Little Students' Day.
Today you will retrace my footsteps by visiting places around the University where I have been before you. Each place is marked with my paw print. I wonder if you'll find them all.

My assistants will give you special worksheets. Whenever you find one of the places where I've been, you'll get a stamp.
Collect all the stamps and it will lead you to me.
After saying goodbye to their parents, the little students set off for the Senate Meeting Room for a meeting with the University's authorities. The children were welcomed by Professor Dariusz Barbucha, the Deputy Rector for Science, and Professor Sambor Guze, the Deputy Rector for Education. The meeting began with a bell, just like a real sitting of the Senate. The Professors told the children a little about the University and its history, before posing with them for a group picture.
Our youngest guests were then divided into groups, in set off in the footsteps of the Sea Wolf to the classes and workshops prepared for them:
meeting with the officers from Gdynia Municipal Police Headquarters,
sensory activities and baking of buns,
physics experiments,
survival at sea workshop,
maritime customs and history in the University's Hall of Tradition,
visits to laboratories, including the Ship Power Plant Simulator.
All those taking part also took souvenir photos in a photo booth provided for the occasion.
At 15:00, after an eventful day, the kids gathered together once again and were given attendance certificates, books and souvenir bookmarks, and drawstring sports bags with the University's logo by the Sea Wolf.
Thanks to all those involved in helping to make this year's event a great success, and to all those who came. We invite all children of staff, students and doctoral candidates of Gdynia Maritime University to take part in next year's Little Students Day.
Providing entity:
GMU/Gdynia Maritime University