Rector and Student Represent GMU at IAMU Student Forum 2023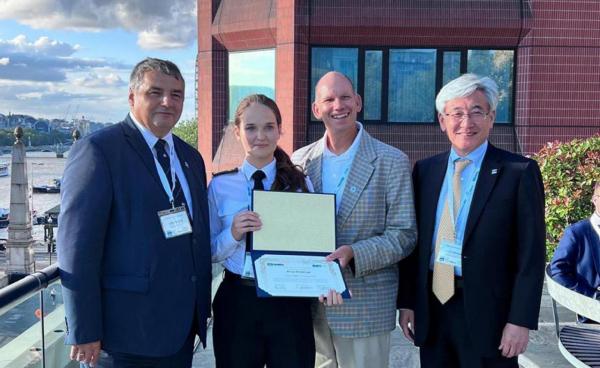 The IAMU Student Forum 2023 took place on 11-13th July, at the headquarters of the International Maritime Organization in London. The event was chaired by GMU Rector Professor Adam Weintrit, Chair of the International Association of Maritime Universities and was attended by 45 students from 34 countries. 
The IAMU Student Forum 2023 began with an opening ceremony, during which the Rector gave a speech.  Taking part in the Forum were students from maritime universities from around the world.  Representing Gdynia Maritime University was Alicja Krawczyk, a second-year student in the Faculty of Navigation.  The IAMU Student Forum 2023 was connected with the topic of this year's World Maritime Day - "MARPOL at 50 - our commitment goes on." Students, supported by professors and professionals associated with the maritime industry, discussed the following topics:
Group I - Sustainability of Maritime Education and Training
Group II - MET in Digital Era
Group III - Greener shipping
Group IV - Gender Equality and diversity
Group V - Working and living conditions at sea
Group VI - Maritime resource protection.
The workshops aimed to analyse the above-mentioned issues, which are the biggest challenges for the modern maritime industry. Participants were actively involved in the discussions, exchanging their views and opinions and trying to offer the best possible solutions for specific problems. During the closing ceremony, each group presented the results of their work and answered questions and addressed any doubts concerning their ideas and conclusions.
All participants received certificates of participation in the event, which were presented by the Chair of the IAMU, Professor  Adam Weintrit, who also holds the role of Head of the Policy and Planning Committee, the Executive Director of IAMU, Takeshi Nakazawa, and the groups' moderators.   The event was complemented by a trip to the Royal Observatory and the National Maritime Museum in Greenwich. 
Providing entity:
GMU/Gdynia Maritime University