Rector Appoints New GMU Maritime Institute Director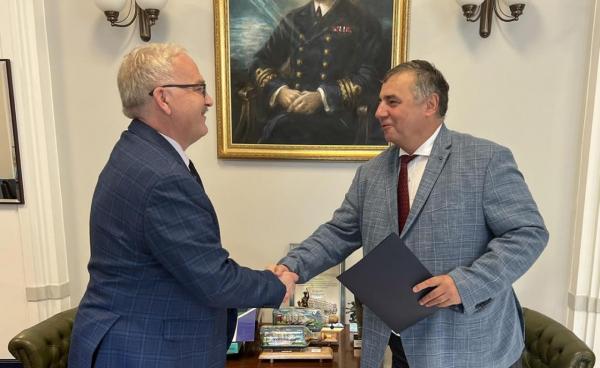 On 18th September 2023, the Rector of Gdynia Maritime University, Professor Adam Weintrit, nominated a new director of the GMU Maritime Institute. The Rector thanked outgoing director Professor Maciej Matczak for his work and dedication in leading the Institute. Appointed to the role as his successor is Professor Krzysztof Czaplewski.
Professor Krzysztof Czaplewski has been connected with the University since 2014.
He graduated with a degree in navigation from the Faculty of Navigation and Ship Armouring at the Polish Naval Academy (1991). In 2000, he completed a doctorate at the Naval Academy in geodesy and cartography. In 2005, he gained a postdoctoral degree at the Faculty of Geodesy and Spatial Economy of the University of Warmia and Mazury also in geodesy and cartography.
The scientific activity of Professor Krzysztof Czaplewski focuses on the automation of the navigation process and the search for further areas for its application, as introduced in his postdoctoral monograph; the concept of interactive navigation structure; and the development of a range of hybrid applications for M-estimation and decision-making and resistance function.
Professor Czaplewski is the author or co-author of 150 publications, including 3 monographs, and 7 textbooks and popular science books. The Professor's work has been presented in three languages (Polish, English, and Russian), and 14 countries (Austria, Egypt, France, Spain, the Netherlands, Japan, South Korea, Germany, Russia, Sweden, Switzerland, USA, Italy, Great Britain) on three continents (Africa, Asia, Europe).
Professor Czaplewski is active in national and international non-profit organisations. From 2014 until 2022, he was President of the Polish Navigation Forum. During the years 2012-2015 and 2019-2021, he served as the Chair of the European Group of Institutes of Navigation (www.eugin.info ). Since 2021, he has been the President of the International Association of Institutes of Navigation (www.iainav.org  ). He is also a member of the International Advisory Council of the Resilient Navigation and Timing Foundation (Alexandria, VA, USA), and takes part as an observer in the work of the National Space-Based Positioning, Navigation and Timing Advisory Board (www.gps.gov ).
Providing entity:
GMU/Gdynia Maritime University