University Hosts Students from France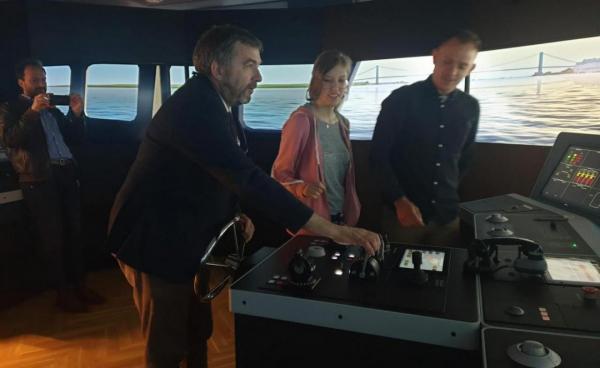 On 11th May 2023, Gdynia Maritime University was honoured to host a delegation of students from the CY Cergy Paris University, together with Professors Laurent Guihéry and Richard Zelezny.
As part of the visit, students from the University in France and students associated with the Innovative Transport and Logistics Systems Student Scientific Circle, together with their tutor Eweliną Ziajka, took part in a seminarian entitled: "Maritime ports at the cross-roads of the supply chains' transformation" at the headquarters of the Marine Port Authority in Gdynia. During the meeting, the students attended a lecture by Dr Michael Tuszyński, on current and planned investments in the port of Gdynia. They also took part in the discussion on current transport problems, particularly in terms of sustainable development, innovation, and congestion, as well as contemporary challenges in rail and road transport, moderated by GMU Associate Professor Dr Adam Przybyłowski from the Transport and Logistics Section of the Faculty of Navigation, and Professor Laurent Guihéry from CY Cergy University in Paris.
Students also visited the hydrotechnical facilities in the port of Gdynia, and learn more about the investment currently being built at the Indian Quay. The technical issues were explained to them by the construction engineer of the company NDI, which is implementing the project.
In addition to the aspects connected with the construction of the port and its development, students had the chance to familiarise themselves with the specifics of the navigation and manoeuvre simulators, and supply chain optimisation software Flexsim, courtesy of the staff of the  Faculty of Navigation, headed by the Deputy Dean for Maritime Affairs, Cooperation and Development Dr and Master Mariner Przemysław Wilczyński, the Deputy Dean for Maritime Affairs, Dr Kamil Formela from the Department of Navigation, Dr Andrzej Hejmlich from the Department of Ship Operations, as well as 2nd-year navigation students. Guests also visited the University's planetarium, Agnieszka Bronk and Sara Klebba gave a brief presentation on the activities of the scientific circle and its plans for the future.
Following a busy day, students from the Paris university and GMU continued their integration at the student club Bukszpryt, accompanied by a group of students and their guardians from Hochschule Bremerhaven, university Dean Professor Gerhard Feldmeier and Professor Hans Rummel. The visit was of great importance in establishing international cooperation among the universities, as well as broadening the GMU students' horizons by introducing them to transport challenges in the Paris-Le Havre-Rouen region in France.
Providing entity:
GMU/Gdynia Maritime University