IMOR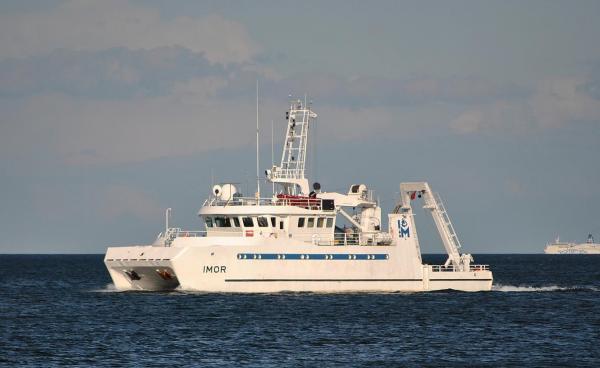 R/V IMOR - FLOATING LABORATORY
The modern, unique research vessel r/v IMOR, functioning as a floating multipurpose oceanographic research laboratory, was commissioned in September 2006. She is designed to realise complex, highly specialised research services, basing on state of the art investigation techniques.
The investment was co-financed by the European Commission from the ERDF Operational Programme "Improvement of Competitiveness of Enterprises", Action 1.4.
PROPERTY PROFILE
monitoring of dredging works,
monitoring and environmental investigation including contamination of water and bottom,
monitoring of sea bottom contamination by wrecks,
hydrographical survey and geophysical investigations of the sea bottom and lying below it cables, pipelines and other objects,
oceanographic survey (wind, currents, Significant wave height, water probes, other),
precise recognition of geological structure of sea bottom sediments (Vibrocorrer 3/6 meters, boxcorrer on warters up to 100 meters depth)
VESSEL'S FEATURES
120 kN/10m jig crane and 30 kN A-frame (aft), cable winch 40 kN.
There are doors for taking water sampling directly form wet laboratory by 4 kN telescopic crane with hydraulic winch.
Special well (moon pool) on main deck with T shape guide rail to fit variable echosounder transducers (SBES, MBES), USBL (Scout Pro).
Wet Lab: Consists of approximately 8 m2 of air-conditioned space located aft of living space with direct access to the after main deck. Bulkheads are fitted with grill allowing for installation of benches, cabinets and equipment.
Remotely Operated Vehicle SeaEye 600 DT.
20' container stand on upper deck (extra laboratory / accommodation / ROV).
Dynamic Positioning – System class 1.
The vessel is easily re-configured accordingly to requirements and adaptable solution to clients varying demands in all subsea surveys.
Dry Lab: Consists of approximately 28m2 air-conditioned space.
80 m2 aft working deck with space to fit 2-3 standard 10 or one 20 feet containers with equipment.
Electric services include 230 VAC and UPS 230VAC – ups 5 KVA
HULL
Twin hull catamaran type with spacious deckhouse enclose bridge, dry computer and wet geological laboratories.
Steel body, deckhouse, wheelhouse and mast fully welded.
Fuel, water, and sewage tanks accommodated in double bottom space.
Aft working deck wood covered.
Hull structure optimized to obtain minimum draft, with no ice class.
DIMENSIONS
Length 32,50 m
Breadth 10,50 m
Draft average 2,25 m
Draft max 2,55 m
Displacement 327 t