Faculty of Navigation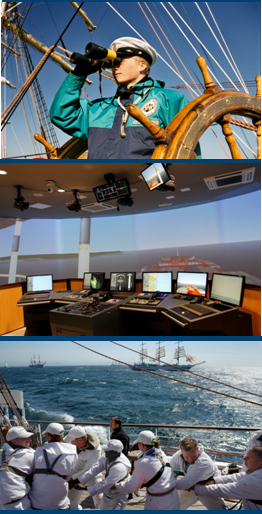 Contact:
Dean's Office – Faculty of  Navigation 
3 Jana Pawła II Av.
81-345 Gdynia, Poland
tel: +48 58 558 61 34
e-mail: biuro [at] wn.umg.edu.pl
The Faculty of Navigation educates students in two modern fields:
At present the Faculty of Navigation offers studies in the following specializations:
Marine specializations:

Maritime Transport,
Safety Management in Maritime Transport,
Offshore Technologies.

Land specializations:

Transport and Logistics,
Maritime Transport and Logistics Systems
The aim of studies in the specialization of Maritime Transport is to prepare highly qualified experts in ship operation in maritime transport. Graduates of this specialisation obtain a diploma of the accomplished studies and the degree of master and engineer of marine navigation. After doing the training which is strictly specified by the regulations, they also obtain the diploma of officer and are entitled to hold the officer and managerial posts on ships in the deck department.