Gdynia Maritime University Hall of Tradition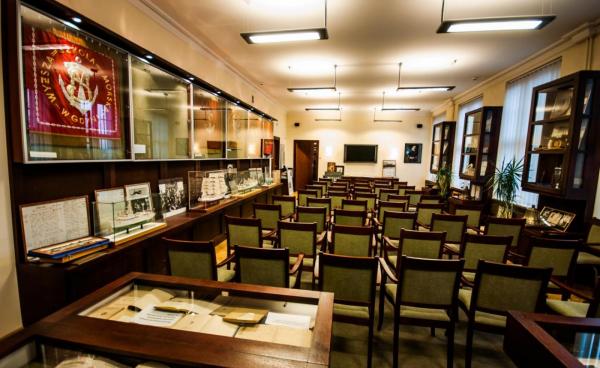 The idea of collecting and displaying the school's mementoes and souvenirs came about before WWII. At the request of Lieutenant Commander Gustaw Kański, a museum was set up in one of the rooms of the Gdynia State Maritime School.
In 1935, School Director Lieutenant Commander Adam Mohuczy mentioned the school museum in a chapter of the book 15 years of Poland at sea (the publication also included photographs of the exhibition), and in 1937 it was described in more detail by Stanisław Zadrożny in the guidebook Na gdyńskim szlaku (On the Gdynian Trail).
The first items to be included in the collection came from the Lwów: two compasses, a lifebuoy, wooden Christmas trees made by students in 1923 (during a voyage to Brazil), ship logs, the ship's certificate of registry and "several other interesting documents of various types which encourage reflection on certain facts concerning the creation of the merchant navy and finally a file of the now-forgotten first maritime publications".
Sadly, the collection did not survive the Second World War – from the school's first training ship, the Lwów, only a wooden block and some navigational maps found years later were saved. At the beginning of the 1970s, talk once again turned to the idea of creating a new collection documenting the history of the maritime school. In 1973, by Decree of the Rector of Higher Maritime School, Professor and Master Mariner Daniel Duda, PhD, the Maritime School History Museum was established on Aleja Zjednoczenia (now Jana Pawła II) and in 1978 all items were transferred to the main building of the Higher Maritime School (83 Morska Street) for the grand opening of the Hall of Tradition on 13th December where they can still be seen today.
Thanks to the long-standing efforts of staff, graduates, and friends of the University and the generosity and dedication of donors, the Hall of Tradition contains a unique collection of souvenirs and documents that are of particular interest for Polish maritime history enthusiasts and researchers. 
The Hall is open for visitors from 9am to 2pm Groups wishing to visit the exhibition should contact the University to make arrangements a week in advance.
CONTACT:
ul. Morska 83, 81-225 Gdynia, 
room B-207, B-208 and 208A  
tel. (58) 5586-650
sala_tradycji [at] bg.umg.edu.pl
---
[1] S. Zadrożny, Na gdyńskim szlaku (On the Gdynian Trail), Warszawa 1937, p. 86-88.