Navigation and Manoeuvring Sim Lab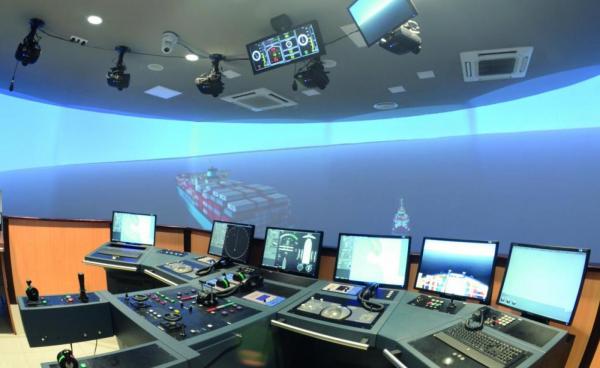 The SimFlex Navigator developed by FORCE Technology (Denmark) is used to carry out training in ship manoeuvring, navigation, towing, emergency situations, and bridge team management in accordance with the STCW Convention and IMO guidelines. It also able to simulate different hydrometeorological and shipping conditions.
The simulator consists of three bridges: the Full Mission Ridge is equipped with a 24°angle visualisation system based on projectors, binoculars and a virtual CCTV camera, and has an integrated and automated Nacos Platinum ship management system. It is composed of an ODRAR, the ECDIS, a route planning station and a Conning Display. The bridge also contains control consoles (with devices used to lower and lift anchors, turn on and switch off day lights and signals), communication stations (two radios, intercoms, public announcements panel, NAVTEX receiver), ship instrument indicators, autopilot, GPS receiver, and sonar. The bridge also has the possibility of simulating the power management system and the failure management system for selected models. The Part Task Bridge is equipped with a 110° television-based visualisation system with Nacos Platinum (Conning Display, DARDAR, ECDIS) and a control console, a radio telephone and ship instrument indicators.