IMO Member States Visit Gdynia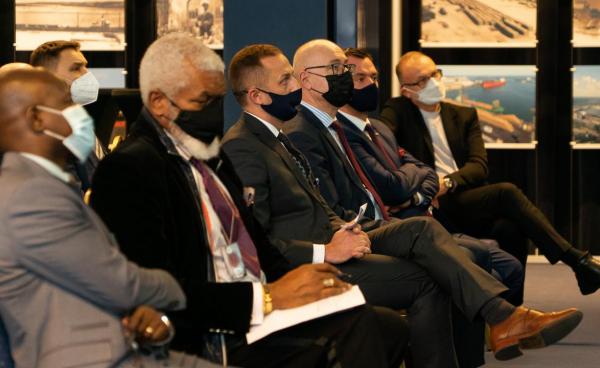 University staff took part in a studying visit for representatives of IMO member states on Friday 19th November, held in Gdynia and organised by the Polish Maritime Administration.
HM Rector Professor Adam Weintrit, Deputy Rector for Education Dr Sambor Guze, the Rector's plenipotentiary for IAMU matters, Associate Professor Adam Przybyłowski, and Associate Dean for Student Affairs and Promotion of the Faculty of Navigation Adam Kaizer, met with representatives of the diplomatic bodies of eight IMO member states. The topic of the meeting was the realisation of Poland's potential within the maritime industry and maritime higher education as a result of its experience with a view to making possible future decisions beneficial to global shipping.
The meeting was hosted by the Management Board of Gdynia Maritime Port, which made use of the facilities on offer at Gdynia Maritime University when organising the visit. Following a cruise around Gdynia Port, the guests watched a film on the University before visiting the GMU Faculty of Navigation where they were given a demonstration of the ship manoeuvre simulator.
The study visit was part of the Maritime Administration's campaign for Poland's candidature for membership of the International Maritime Organisation Council in category C for the term 2022-2023. The matter will be voted upon by the IMO member states during the 32nd session of the General Meeting due to take place in the first half of December.
Providing entity:
GMU/Gdynia Maritime University
Last edit:
b.von.schada.bo...
23.11.2021