Finish Delegation from Turku Visits GMU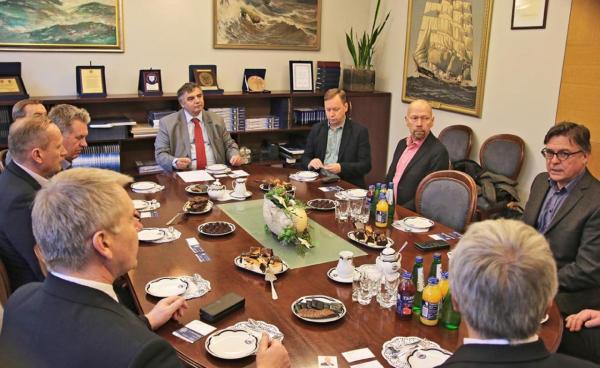 On 9th November 2022, a meeting took place at Gdynia Maritime University with a delegation of representatives from the Turku region of Finland. The meeting was attended by GMU Rector Professor Adam Weintrit, Deputy Rector for Cooperation and Development Professor Tomasz Tarasiuk and Deputy Rector for Science Dr Dariusz Barbucha.
The Finnish delegation included:
Juhani Soini, Vice-rector (Turku University of Applied Sciences)
Tapio Karvonen, Senior Researcher (University of Turku)
Vesa Erkkilä, Network Manager (Turku Science Park Ltd)
Petteri Partanen, Business Manager (Regional Council of Southwest Finland)
Esa Tuomisto, Senior Specialist, (City of Turku)
Juha Valtanen, Senior Advisor (Turku University of Applied Sciences)
During the visit, the Finnish delegation attended several meetings with representatives of local governments, universities and industry from the Baltic Sea area, to discuss potential areas for cooperation, including the joint implementation of European and maritime technology industry projects.
Providing entity:
GMU/Gdynia Maritime University