Ilawa Ship Handling Centre Named After Captain Zbigniew Sulatycki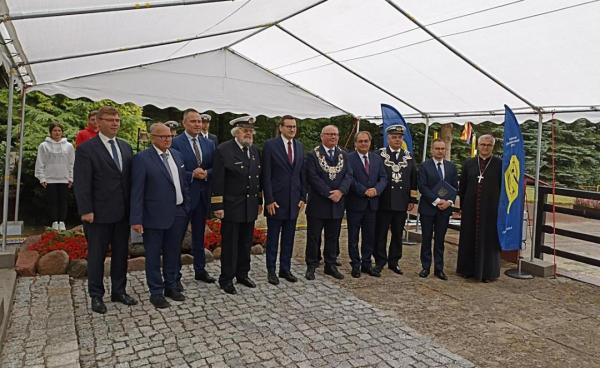 A ceremony took place at Ilawa Ship Handling Centre on Monday 19th September to honour the research and training centre with the name of Master Mariner Zbigniew Sulatycki. The event was attended by Staff from Gdynia Maritime University and representatives of central and local government.
Starting at 9:00 am, guests were welcomed to the ceremony by the Managing Director of the Foundation for the safety of Navigation and Environmental Protection in Ilawa Jacek Nowicki and the Chair of the Foundation Council, Dr Marek Dzida.
Those in attendance included President of the Council of Ministers Mateusz Morawiecki, the Secretary of State in the Ministry of Infrastructure Marek Gróbarczyk, and the Pomeranian Governor Dariusz Drelich who presented a letter from Marshall of the Sejm Elżbiety Witek addressed to the patron of the centre and the ceremony's organisers.
Taking part from Gdynia Maritime University were HM Rector Professor Adam Weintrit, and Director of the Ship Management Office Dr Bogumił Łączyński.
Another highlight of the event was the presentation to the assembled guests on the history of the establishment of the Research and Training Ship Manoeuvring Center in Ilawa, the presentation of its current activities, and plans for the future. The presentation was performed by Jacek Nowicki, Managing Director of the Safety of Navigation and Environmental Protection Centre in Ilawa.
Next to speak was the Chair of the Foundation's Council, Dr Marek Dzida, who spoke of the contributions of Captain Sulatycki to the maritime economy and his collaboration with the Centre in Ilawa.
The grand unveiling of a plaque to commemorate the addition of the Captain's name to the Centre was carried out by Prime Minister Mateusz Morawiecki and Captain Sulatycki.
After the unveiling, a speech was given by Mr Morawiecki, before Captain Sulatycki spoke of the significance of maritime to the development of the country and expressed his gratitude for the distinction. He also underlined the importance of the Centre's cooperation with Gdansk University of Technology and Gdynia Maritime University.
The event was organised by the Council and Management of the Safety of Navigation and Environmental Protection in Ilawa.
Providing entity:
GMU/Gdynia Maritime University