GMU Choir Performs with Andrea Bocelli for Fifth Time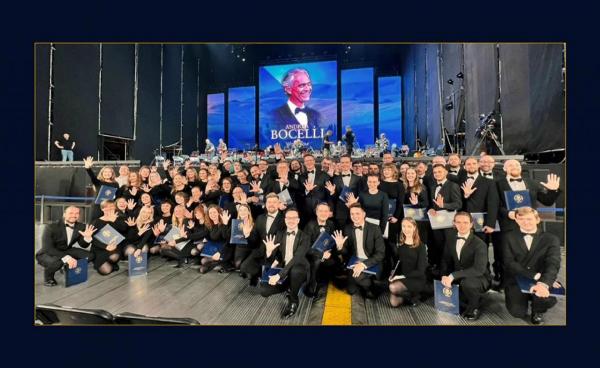 On Saturday 26th August 2023, the Gdynia Maritime University Academic Choir took to the stage for what was its fifth performance alongside Andrea Bocelli - the 'world's most beloved tenor'. The two-hour concert at "stadion słąśki" in Chorzów was enjoyed by the classical artist's largest audience in Poland to date. Those in attendance were treated to a repertoire of pieces from famous operas, Italian folk songs, and film hits.
Also joining Bocelli on stage on this occasion were Maria Aleida, Ilaria Della Bidia and Andrea Griminelli. Providing the music was the Beethoven Academy Orchestra, and the entire the entire performance was conducted by Carlo Bernini. Adding further to the performance were dancers  Angelica Gismondo and Tommaso Stanzani. As for the GMU Choir, its members returned from the event in high spirits:
"For the members of the choir and I, every concert, whether it be a more intimate performance for a few dozen people or a large-scale concert attended by thousands of people, is an extraordinary mix of artistic responsibility, euphoria and emotion. This was our fifth concert with Andrea Bocelli in almost five years, which shows that as an artist we are dependable, and our performances bring authentic emotion to the stage. I must admit that we feel at home on the big stage, especially when the English-Italian team accompanying the famous singer says to us "It's great to see you all again! We really enjoy working with you" commented Dr Karol Hill, conductor of the Gdynia Maritime University Academic Choir.
The organiser of the event was the agency Prestige MJM.
"We are thrilled to take part in such a perfectly organised event - compliments to Prestige MJM" the Choir commented on social media.
The GMU Choir is looking forward to more exciting events in the coming months. 
Providing entity:
GMU/Gdynia Maritime University