GMU Scientific Partner of the Edu Offshore Wind Education and Careers Fair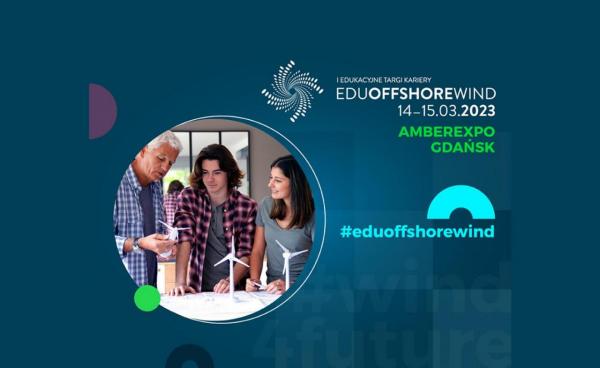 On 14th and 15th March 2023, the first Edu Offshore Wind Careers Fair will take place at the Amberexpo Conference and Exhibition Centre in Gdansk. The scientific partner for the event is Gdynia Maritime University.
Edu Offshore Wind 2023 is the first such event focusing on the future labour market in the offshore wind energy industry in Poland. During the fair, secondary school pupils and students will meet with industry leaders in Poland and abroad. For students, this will provide an opportunity for them to meet and talk directly with representatives of leading companies active in the offshore wind energy sector.
Gdynia Maritime University will present the courses it offers on the University's stand located in hall A, stand A58. In the vicinity of the main stage in hall B, there will be a presentation of equipment used in the process of teaching specialisations related to offshore wind energy.
The first day of the fair will be followed by a joint meeting of the "Polish Offshore Sector Deal" working groups.
Working Group 1:
Human Resources and Education System Development - Group Coordinator: Deputy Rector for Education of Gdynia Maritime University, Dr Sambor Guze, GMU Associate Professor
Working Group 5:
Social Education - Group Coordinator: Sylwia Mrozowska
Edu Offshore Wind 2023 is the closing event which has been preceded by an education programme conducted in Pomeranian secondary schools since November 2022.
The participation has already been confirmed of more than 5,000 young people from Pomeranian secondary schools, and more than 70 exhibitors from Poland and abroad, including developers, investors, the largest Pomeranian universities and research institutions. Educational value will be provided by VR stations, aerodynamic simulators, and tunnels. Also at the Fair will be the stands of higher education institutions, training companies and the most important companies in the offshore sector. Among the partners of the fair are the Ministry of Climate and the Environment, Polish Energy Networks, the Energy Regulatory Office, the Polish Space Agency, the Danish, Dutch, and French embassies, as well as the General Consulate of the Federal Republic of Germany in Gdansk.
The Edu Offshore Wind Education and Careers Fair is an event which will be a celebration of education and competence in the offshore wind energy sector in Poland.
Secondary school pupils will enjoy a rich programme of visits to individual stands and exhibits, and specially prepared workshops and panels.
For parents there will be a special panel led by experienced educators.
For students the fair will provide an opportunity to meet the leading companies operating in the OWE sector.
Industry guests can take part in the debates and discussion panels on the current situation in the offshore wind energy sector.
Admission to the fair is free of charge. Online registration required: bit.ly/Eduation
The Edu Offshore Wind Education and Careers Fair is held at the Amberexpo Conference and Exhibition Centre, Żaglowa 11, 80-560 Gdańsk
Date and opening hours:
14th March 2023 (Tuesday): 9am - 5pm
15th March 2023 (Wednesday): 9am - 5pm
Providing entity:
GMU/Gdynia Maritime University