GMU Sports Day Winners Awarded at Staff Banquet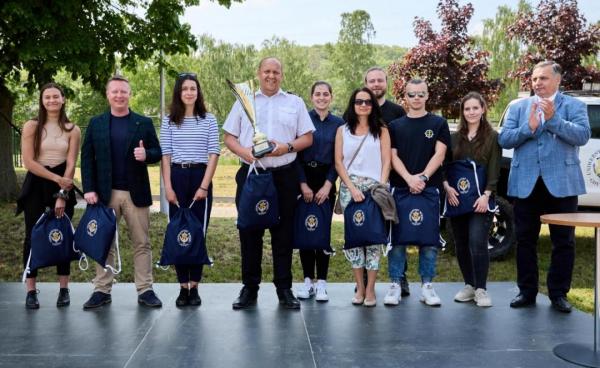 For the first time, this year's GMU Sports Day was held not on the university's main campus on Morska Street, but at another location: the Stella Maris na Kaszubach Recreation Centre in the Kashubian countryside. There was also a change in the overall winner of the competition with the Faculty of Navigation coming out on top.
The new location was due to the ongoing construction of the University's Sports and Recreation Centre.
"This is a time of change as the Sports and Recreation Centre is currently being built, but I hope that we will organise next year's competition in the new sports hall." - announced HM Rector Professor Adam Weintrit. "I would like to apologise to all staff and students who were unable to support their teams." – he added.
The location change of this year's Sports Day was not the only novelty in the event organised by the Centre for Sport and Recreation. New competitions, such as a golf tournament, and kayaking and sailing races, were added to the sporting disciplines held in recent years. Competing against each other were six teams representing each of GMU's four faculties, the Maritime Institute, and the University's Administration. As usual, the competitions were accompanied by a lot of fun and positive emotions. The teams of students and staff competed in a total of 10 sporting events. The overall classification also included the results of the Sudoku tournament, which took place a week earlier and was won by Natalia Szymańska of the Faculty of Electrical Engineering.
The results in the first three competitions singled out three of the university's faculties as favourites for the title of 2023 champions: Electrical Engineering, Navigation, and Management and Quality Science. The competition went down to the wire with the final classification determined by the final competition - the kayaking race. The Faculty of Navigation's team crossed the finish line in 2nd place, giving them the most points overall. The Faculty of Electrical Engineering took second place overall, and the Faculty of Management and Quality Science finished only one point behind in third.
The official announcement of the results and the award of the trophy to this year's winners took place during a banquet for the University's staff back on campus in Gdynia.
Photos by Jacek Koślicki I Koslicki.pl
Providing entity:
GMU/Gdynia Maritime University