"Less Light, More Stars" Meetup Returns for 3rd Edition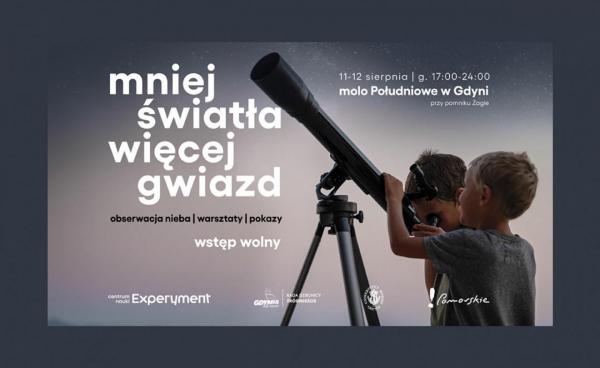 It's back! A closer look at Poseidon, a visit to Gdynia Maritime University's planetarium and cosmic experiments for children are just some of the attractions on offer at the 3rd edition of "Less Light, More Stars" - a stargazing meetup to be held on the 11th and 12th of August in Gdynia.
An initiative of the Gdynia City Centre District Council, the event is organised by the Experyment Science Centre in Collaboration with Gdynia Maritime University and takes place at the end of the south pier in Gdynia's city centre. The event has enjoyed great popularity over the past 2 years, with over 1,000 science, astronavigation and space enthusiasts attending each edition.
 "Less light, more stars" has proved to be of great interest to both the younger and the somewhat older generations in Gdynia,' commented Jędrzej Szerle, the head of the City Centre District Council.  - No wonder - getting to see the craters on the Moon, the rings of Saturn, or the moons of Jupiter are moments of great joy. And although it's  in the centre of the city, the far end of the south pier is actually a great place to observe astronomical objects.
This year's event will take place on Friday and Saturday (11th-12th August) between 17:00 and 24:00. The organisers have prepared a variety of interesting attractions. Participating youngsters will be able to make their own diffraction glasses, build and launch a rocket into space, construct a quadrant, and create a small car powered by only solar energy.
For a few hours there will be experiments, demonstrations in the nearby planetarium, and observation of the sun using specially adapted solar telescopes - said Olgierd Jastrzębski of the Experiment Science Centre. After the sun goes down, we will begin to explore the stars above us and admire the mysterious Poseidon. On both 11th and 12th August, we will be in the very centre of Gdynia until midnight.
---
Participants are invited to attend demonstrations in Gdynia Maritime University's planetarium which will start every 30 minutes between 17:00 and 21:00.  Each session can accommodate up to 30 people.  Entrance is free and tickets can be collected from the Experyment Science Centre (Centrum Nauki Experyment) tent.
---
The event is part of a year of a year of celebrations for the 550th anniversary of the birth of Polish astronomer Nicolaus Copernicus. Experyment Science Centre also participates in the Copernicus Heritage Trail Programme alongside other institutions from the regions of Pomerania, Kujawsko-Pomorskie and Warmia-mazurskie.
Providing entity:
GMU/Gdynia Maritime University