Polish Academic Sailing Championships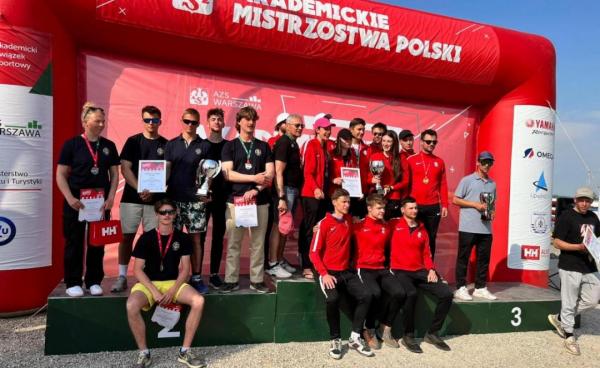 The Polish Academic Sailing Championship took place in Wilkas, Mazury, and was held over four days starting Monday 22nd May. Taking part in the competitions were 87 crews representing 36 different universities and other higher education institutions. For Gdynia Maritime University, the event was not to be missed, especially as it represented a great chance to test the capabilities of the University's recently purchased Omega class yachts: POL-654 and POL-655.
The weather, though, was less than ideal for the occasion. For the first two days there was no wind at all, and the next two days saw only a little improvement. However, as usual, GMU representatives stormed through the knock-out stages of the competition. Competing in group A was yacht POL-654, with Jędrzej Charłąpowicz (Staff member in Dep of Logistics and Transport Systems) at the helm and a crew consisting of Bartosz Sadowski (FME student), Oskar Mauda (FEE student) and Igor Kamiński (FME student), finished in fifth place. Their colleagues competing in the yacht POL-655 in Group B, including Mateusz Grzempa (FON student) at the helm, Wiktor Kreft (FON Student), and Kinga Brzóska (FOMQS student), took fourth place.
The last day of the event saw only two of the planned nine races go ahead due to weak wind. After putting in an excellent performance in the first race, the crew of POL-654 was judged to have had a false start, which resulted in a far lower classification than their expectations and capabilities would have allowed.
The crew captained by Mateusz Grzempa placed 2nd overall in the category of Universities of Social and Natural Sciences, and Jędrzej Charłąmpowicz's team took 4th place overall in the same category. The two results combined meant that, in the team classifications for Universities of Social and Natural Sciences, Gdynia Maritime University achieved 2nd place.
Providing entity:
GMU/Gdynia Maritime University