Student Scientific Circle "Logistic" Takes Part in One Terminal Run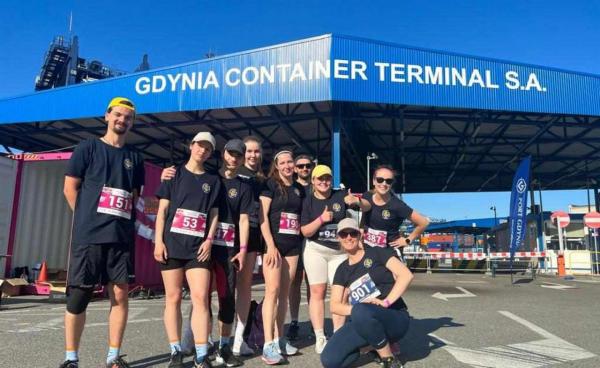 On 25th June, the members of the loGIStic Scientific Circle of the Faculty of Navigation of Gdynia Maritime University took part in the 3rd edition of the ONE Terminal RUN organised in the GCT port terminal in Gdynia.
The One Terminal RUN is an annual event that attracts both logistics professionals and enthusiasts. The route passes through various sectors of the port, allowing runners to admire impressive infrastructure and get a closer view of ongoing logistics processes. More than just a sporting challenge, the event is also a great opportunity to explore the practical side of port logistics.
Two members of the loGIStic Scientific Circle, Ewa Pasiut and Oliwia Struck, ran the one nautical mile course. Taking part in the five-kilometre run were  Natalia Bryla, Karolina Gronek, Martyna Neumann, Paweł Borowiec, and Mateusz Galas. These were joined by GMU teaching staff members Oktawia Lewicka and  Dr Mariusz Specht.
Congratulations to all participants - we hope to see you at the next edition of the ONE Terminal RUN!
Providing entity:
GMU/Gdynia Maritime University